Shrubs are one of the most commonly planted landscape plant.  There are many, many varieties.  But knowing which ones are the best for your landscape, and what you desire, is the trick.  It is my goal to provide useful information on a variety of types of shrubs that may be suited to planting in your landscape.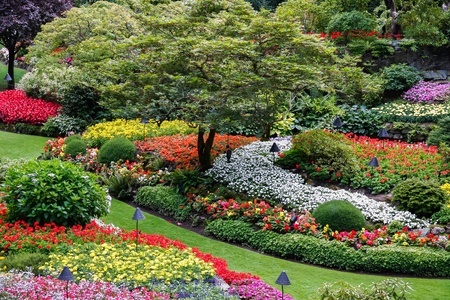 Overview
Shrubs are one of the most commonly planted landscape plant.  They can be planted at any time, but spring and fall are probably the best time of the year to do so.  In the spring you have a lot of time to get the roots established before the next cold season, assuming you plant in late spring if in a colder climate.  If you have a plant that might be iffy on cold hardiness in your area, it would be best to put it in during the spring.  On the other hand, if cold hardiness is not an issue you may want to plant in the fall, which will allow you the most time to get the shrub and root system established before the next summer dry season.
Garden shrubs generally come in a variety of sizes of containers.  You can buy them in very small sizes (1 or 3 gallon containers), medium size (5 gallon containers), or larger sizes (10 to 20 gallon containers).  It is up to the individual what size he or she decides to purchase, but if you are going to be planting more than one of the same type of shrub in the same area then buy all of them in the same size.
If you want and immediate look on your investment, and your budget allows for it, buy a larger size, up to 20 gallon variety.  They are more expensive, but if you can afford them it will reduce the amount of time you have to wait for your plants to have a mature look.  But most people have to operate within a budget and this may well not be a practical course to take.  Buy the size that gives you the best appearance for what you are willing to spend.  Just remember, however, that if you buy small size containers, say the 1, 3, or even 5 gallon varieties, that there is a tendency to want to plant the shrubs too close together because they are small when they are put into the ground.  Before you plant make sure you know how far apart each plant needs to be spaced.  This information is usually included on the label of the plant when you buy it.